Two years of Eindhoven Engine
14 April 2021
The kick-start of a self-running engine
All is well at Eindhoven Engine. It's been two years since this joint venture of Fontys, TNO and TU/e saw the light, as part of TU/e's Strategy 2030. The 'innovation accelerator' is going strong. Already, more than 150 people and 15 projects are working on exciting innovations accelerated by Eindhoven Engine. And if you ask directors Katja Pahnke and Maarten Steinbuch, there's much more to come.
"Eindhoven Engine is one of a kind," says Maarten. "Nowhere else will you find something like it. At Eindhoven Engine, we provide the possibility to work together in new forms of collaboration. We share knowledge, bring people from different backgrounds together and challenge them to look beyond their own discipline and beaten path. Through that we accelerate innovations that can truly change the world. In these first two years of our existence, we are proud to have already worked on 15 projects. It is so inspiring; people are beginning to think differently, act differently and work in new ways. The Engine formula works."
Co-location, co-creation
Co-location and co-creation are key-words in the way Eindhoven Engine works. The Engine facilitates a perfect environment for creative professionals with the urge to transform their ideas into innovations that offer answers to social issues we face as a society.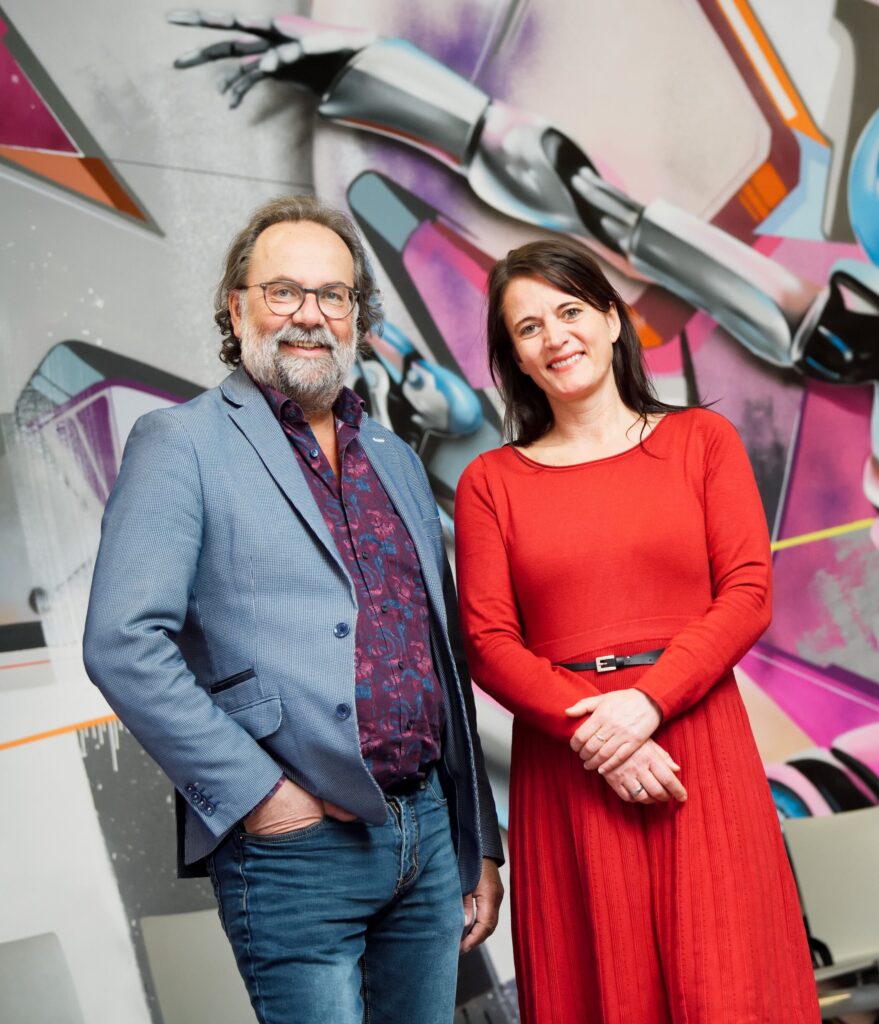 It offers researchers and scientists the opportunity to come into contact with like-minded innovators, ambitious students and professionals from industry, each with their own knowledge, expertise and life experiences. Together, they can team up and let the energy flow.
How? Katja: "Once a year, we invite consortia consisting of industry partners, universities and other knowledge institutes to submit project proposals to our OpenCalls. Already, many consortia have found their way to us. Through inspiring network meetings, creative workshops and courses organized by Eindhoven Engine Academy, we give them the opportunity to meet each other." The results of the current OpenCall 2021 will be published before summer 2021.
"Our ultimate goal," Katja continues, " is for an important part of the projects to be carried out at our location in the MultiMediaPaviljoen (MMP) on the TU/e Campus. There, people can really meet each other, work together and co-create. Corona made that difficult, so we did a lot of things online over the last year. That was challenging, but we still managed to keep a lot of very special projects going and intensify the cross-over interactions between the projects. And Corona also has an upside: in times of crisis, the need for innovation acceleration increases. Furthermore, it helps us to 'rethink' and adapt faster to this virtual world."
Diversity in projects
Katja and Maarten are very proud of the projects that are now being carried out within Eindhoven Engine. "Each project has to have something to do with the Brainport Region", Maarten explains. "That means we don't do projects in the field of water management, for example. Currently we have projects in the fields of mobility, medical technology, smart cities, vitality at work, health and energy. It's very diverse."
A small selection of current projects mentioned by Katja and Maarten illustrate this diversity of Eindhoven Engine: "Together with TNO we are working on reusable isolation gowns and face masks. With that, we can hopefully put a stop to the millions of masks and isolation garments that are thrown away each day. TU/e, Fontys and companies work together on vitality in the workplace under the project name POWEr FITTing: FITTing Persons' vitality and optimizing their work environment. Carbyon DAC is also involved and works on direct air capture of CO2 from the atmosphere. What's also very special is JUNO: the development of a prototype for a perinatal life support system, an artificial womb for babies born at 20-24 weeks. The two women involved, are already thinking about how they can bring that artificial womb to the market while they are still in the research & development phase. Talk about acceleration of innovation…"
Into the future
Eindhoven Engine is becoming well-known in this ecosystem. Goals are being reached, people are being connected, and they are working passionately on their projects every day. More and more people are joining Eindhoven Engine and becoming ambassadors, like the recently joined new members of the Advisory Board and Supervisory Board Jan Haagh (TU/e Business Development Manager) and Elke den Ouden (TU/e Fellow).
"People are beginning to think differently, act differently and work in new ways.
The Engine formula works."
What is there to wish for in the near future? "We are very happy with how it is going," says Katja. "It gives us so much energy. We are accelerating ourselves; it's almost like a self-running engine. People that work on projects at Eindhoven Engine, are developing new ways of working. They are stepping into their own future with new skills and greater professionalism. And for TU/e, Eindhoven Engine is a great asset as well, serving as a platform for new collaborations between knowledge partners and companies and for the valorization of research and creation of new collaboration models. Our core values are entrepreneurship and out of the box thinking and our people are open-minded, creative, value-driven and easily accessible. One of the goals of Eindhoven Engine was to connect 500 people to the Engine by 2030. At the pace at which we are now going, we will reach that goal in 2025 already. We are very proud of everyone at Eindhoven Engine and are looking forward to all that is still to come."
Do you want to stay updated about Eindhoven Engine? Sign up for our newsletter and follow us on Twitter, LinkedIn and Instagram.
Photo is taken before Corona.