A simulation of emergency vehicles in connected and autonomous traffic
Part of the SmartTwo+ project
Meet Giel Oosterbos. Giel is an EngD graduate of the Smart Cities and Buildings EngD program and does his graduation assignment within Eindhoven Engine project SmartTwo+.
Traffic in the built environment has more and more access to linked open data. Through smart use of communication between vehicles and road network the traffic flow can be improved. The SmartTwo+ project investigates the possibilities of this improvement. How will road traffic evolve in the future and how can emergency services benefit from this evolution? I'm Giel, an EngD graduate from the SmartTwo+ project, and these are the overarching questions that have been puzzling me for the past two years. There is a broad consensus that road traffic will radically change in the coming decades.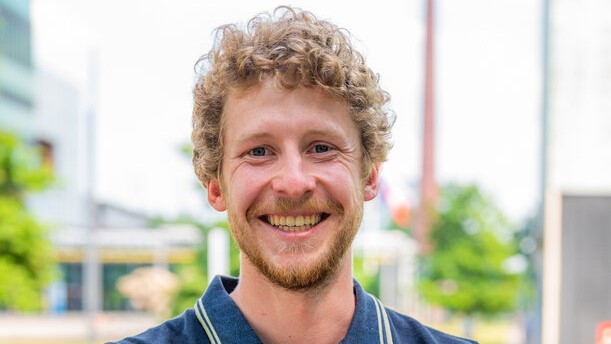 On the one hand, vehicles will be enabled to talk to each other and to the road infrastructure, constituting a connected traffic system. On the other hand, vehicle-driving functions will be increasingly automated on the path to fully autonomous vehicles. These transitions are expected to reduce the number of road accidents drastically, resulting in fewer road deaths and serious injuries. This is specifically relevant to emergency services as their operation typically entails high-pressure situations involving many risks.
Research in communication devices
In my research, I proposed three applications that employ communication devices to reduce the response time of emergency services and improve their safety in traffic. The first two applications were evaluated in large-scale simulations performed with the Simulation of Urban Mobility (SUMO) traffic simulator. The third application was tested in the realistic 3D traffic environment provided by CARLA, utilizing the Autoware.auto autonomous driving software.
Application 1
The Traffic Signal Priority Service allows emergency vehicles to request absolute priority from intelligent Traffic Light Controllers. This removes the need for emergency services to violate red traffic lights and was shown to increase their speed by roughly 20% with a minor impact on traffic flow.
Application 2
The Vehicle Rerouting Service redirects other traffic participants away from the emergency route, reducing the local traffic density for emergency services. The reduction in interactions with other vehicles improves safety and results in a decrease in emergency response time, which is similar to the Traffic Signal Priority Service. However, its negative impact on the traffic flow was found to be much larger.
Application 3
The Maneuver Coordination Service is designed to prioritize emergency vehicles at unsignalized intersections. This service requires that all vehicles involved share their current status and can autonomously adapt to a proposed trajectory.
Vision Zero
The investigation resulted in a formula to determine the minimum range at which the emergency vehicle should request its priority depending on the specific circumstances at the intersection. For the past two years, I have immersed myself in studying connected and automated mobility. I now consider it a crucial development in achieving Vision Zero by reducing the number of road deaths and serious injuries to nearly zero by 2050. At the same time, the Smart Cities and Buildings EngD program expanded my view and helped me to become a more confident professional. Soon, I will leave for a thrilling adventure in Nepal and plan my next career steps!
"My investigation resulted in a formula to determine the minimum range at which the emergency vehicle should request its priority depending on the specific circumstances at the intersection."