Sustainable mouth/nose mask consortium successfully concluded
In January 2021, Eindhoven Engine began a consortium with SionBioText BV, specialist in FFP2 mouth/nose masks, and research institute TNO to develop and test a sustainable FFP2 mouth/nose mask for healthcare: the ProM mouth/nose mask.
Impression photo
Our motivation was the global supply problem of FFP2 masks at the start of the corona pandemic in 2020 and the environmental impact of these masks. With the ProM mouth/nose masks, Europe no longer has to depend on the supply from Asia because the production of these masks takes place in Europe and can be quickly scaled up, while the FFP2 masks are also more environmentally friendly throughout their lifespan. This project was successfully concluded at the end of 2022 and was supported by Small Business Innovation Research (SBIR) of the Netherlands Enterprise Agency and the Ministry of Health, Welfare and Sport.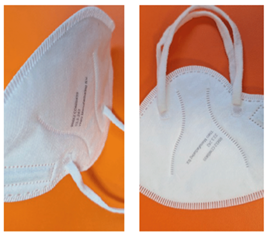 Sustainable, lighter and high comfort
ProM mouth/nose masks are incredibly sustainable as they are made almost entirely (95%) from renewable, biological resources: PLA with bio-based polypropylene (PP) for filtration and recycled steel for the nose bridge. In addition, the mask is about 30% lighter than regular mouth/nose masks made of polyphenylene ether (PPE), requiring fewer raw materials to produce the mask. Last but not least, the mouth/nose mask is also highly comfortable to wear. From mid-2024, the production of these masks will take place entirely at co-developer and manufacturer SionBiotext BV in Maastricht, thereby ensuring better security of supply.
"During the corona epidemic, it was all hands on deck, focused on the short term. Together with the other project partners, TNO is proud to have now also contributed to a more sustainable and structural solution for personal protection during epidemics."
Certification and market readiness
This consortium worked on a prototype FFP2 mouth/nose mask, successfully testing its (technical) feasibility, business case, wearability and contribution to sustainability. In the final phase of this project, a lifecycle analysis (LCA) was also performed for the mask. The analysis proves that it is possible to develop and produce an FFP2 mouth/nose mask made of PLA and bio-based PP. Among other things, the LCA tests show that these masks have some 72% lower CO2-related environmental impact throughout their lifecycle compared to a conventional PPE mouth/nose mask. The next step is to certify these masks.
Due to these positive results, consortium partners Eindhoven Engine, SionBioText BV and TNO are looking ahead confidently to the next phase of the SBIR development process in which the certification and production of the ProM mouth/nose mask can take place. The partners are currently engaged in talks on certification and on delivering the first certified mouth/nose masks.
Are you interest to join the next phase?
Feel free to contact us