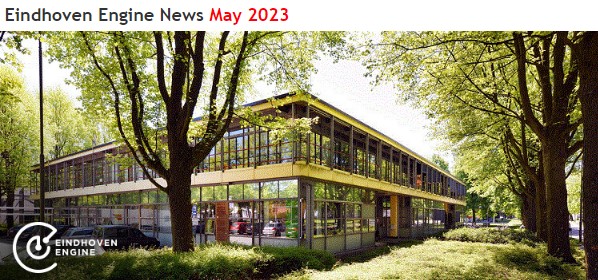 Eindhoven Engine News – May 2023
In this edition of Eindhoven Engine News: Innovator Jesper Pilmeyer in the Spotlight, Using technology to tackle low literacy, Project VIPNOM welcomes Devansh Kandpal and more!
What else is happening at Eindhoven Engine?
A simulation of emergency vehicles in connected and autonomous traffic
Part of the SmartTwo+ project
Meet Giel Oosterbos. Giel is an EngD graduate of the Smart Cities and Buildings EngD program and does his graduation assignment within Eindhoven Engine project SmartTwo+.
Traffic in the built environment has more and more access to linked open data. Through smart use of communication between vehicles and road network the traffic flow can be improved. The SmartTwo+ project investigates the possibilities of this improvement. How will road traffic evolve in the future and how can emergency services benefit from this evolution? I'm Giel, an EngD graduate from the SmartTwo+ project, and these are the overarching questions that have been puzzling me for the past two years. There is a broad consensus that road traffic will radically change in the coming decades.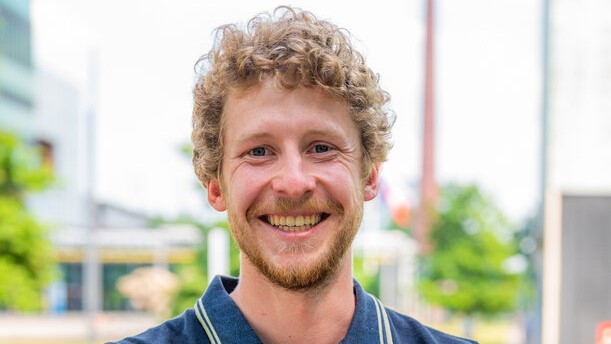 On the one hand, vehicles will be enabled to talk to each other and to the road infrastructure, constituting a connected traffic system. On the other hand, vehicle-driving functions will be increasingly automated on the path to fully autonomous vehicles. These transitions are expected to reduce the number of road accidents drastically, resulting in fewer road deaths and serious injuries. This is specifically relevant to emergency services as their operation typically entails high-pressure situations involving many risks.
Research in communication devices
In my research, I proposed three applications that employ communication devices to reduce the response time of emergency services and improve their safety in traffic. The first two applications were evaluated in large-scale simulations performed with the Simulation of Urban Mobility (SUMO) traffic simulator. The third application was tested in the realistic 3D traffic environment provided by CARLA, utilizing the Autoware.auto autonomous driving software.
Application 1
The Traffic Signal Priority Service allows emergency vehicles to request absolute priority from intelligent Traffic Light Controllers. This removes the need for emergency services to violate red traffic lights and was shown to increase their speed by roughly 20% with a minor impact on traffic flow.
Application 2
The Vehicle Rerouting Service redirects other traffic participants away from the emergency route, reducing the local traffic density for emergency services. The reduction in interactions with other vehicles improves safety and results in a decrease in emergency response time, which is similar to the Traffic Signal Priority Service. However, its negative impact on the traffic flow was found to be much larger.
Application 3
The Maneuver Coordination Service is designed to prioritize emergency vehicles at unsignalized intersections. This service requires that all vehicles involved share their current status and can autonomously adapt to a proposed trajectory.
Vision Zero
The investigation resulted in a formula to determine the minimum range at which the emergency vehicle should request its priority depending on the specific circumstances at the intersection. For the past two years, I have immersed myself in studying connected and automated mobility. I now consider it a crucial development in achieving Vision Zero by reducing the number of road deaths and serious injuries to nearly zero by 2050. At the same time, the Smart Cities and Buildings EngD program expanded my view and helped me to become a more confident professional. Soon, I will leave for a thrilling adventure in Nepal and plan my next career steps!
"My investigation resulted in a formula to determine the minimum range at which the emergency vehicle should request its priority depending on the specific circumstances at the intersection."
The built environment is responsible for about 36% of the global energy demand. About 5-30% of the energy use of buildings is related to energy waste due to faults in heating, ventilation and air conditioning systems. The goal is to develop a self-learning module that can monitor and diagnose climate systems in large buildings.
Generic, robust and reliable fault detection & diagnosis tool
Rick Kramer is the leader of this project and Srinivasan is one of his PhD candidates. Srinivasan is focusing on developing a generic, robust and reliable fault detection and diagnosis tool that can help with the early detection of these faults and eliminate energy wastage.
Personalized control system in an office environment
Within this project, EngD trainee Petros is focusing on the people within large buildings. He is doing research on the control and functionality of a personalized control system that people will be able to use in their office environment to tailor it according to their needs and preferences.
Vacancy: EngD trainee – Bridging the gap in society using the digital library of the future
Are you a masters graduate who wants to continue your study and obtain an Engineering Doctorate (EngD) with the focus on bridging the gap in society, caused by low literacy, using the digital library of the future?
Eindhoven Engine and the TU/e department Industrial Design is offering a fully funded 2-year position to master graduates leading to the award of an EngD (Engineering Doctorate) degree in Designing Human- System Interaction. Start date: as soon as possible.
About the assignment
In cooperation with a few project partners, Eindhoven Engine has decided to contribute to a deeper understanding and the design of a few meaningful interventions, addressing the huge societal challenge of non-inclusiveness. In particular, while the Brainport region is a highly intellectual region, at the same time 15% of the population is low literate, which excludes them from part of the possibilities available in the region. With that purpose in mind, Eindhoven Engine will bring together an ecosystem of students, researchers, start-ups and corporates to co-create, in an open innovation mindset, meaningful technology-based solutions with a strong human dimension.
The library itself has done a design oriented investigation to identify the problem and published its results. This report contains valuable suggestions. What we need now is a creative, innovative and open minded PDEng candidate who can take responsibility for steering the ecosystem and leading the design of the possible solutions, for instance with student teams. No roads are impossible, as long as the impact is clear and it contributes to a solution of a real problem. ​B2 level of the Dutch language is a plus.
Do you have questions about this traineeship? You can also contact Walter Baets, Learning Officer @ Eindhoven Engine, via w.r.j.baets@tue.nl or Ferry Wortelboer, Project Leader Emergence Lab @ Eindhoven Engine, via f.r.wortelboer@student.tue.nl
A photorealistic simulation of dynamic natural light for perception in VR
Part of the IntelLight+ project
Meet Sietse de Vries (26). Sietse is currently an EngD trainee in the Eindhoven Engine project Intellight+.
Source: commons.wikimedia.com (edited by K. Chamilothori)
The IntelLight+ project focuses on human-centric lighting. It takes an integrative approach to developing algorithms to infer and even predict user context to accommodate user needs and preferences. In his sub-research, Sietse is working on a photorealistic simulation of dynamic natural light for perception in virtual reality (VR). Light is an environmental factor that directly and indirectly impacts human health and well-being through processes affecting circadian rhythm, arousal and alertness, as well as comfort and visual interest. Current insights in lighting research show that eyes need high (blue-enhanced) light levels in buildings to support a healthy circadian rhythm and the associated good sleep. However, when delivered by traditional lighting fixtures, these high light levels challenge visual comfort and user acceptance. At the same time, recent studies suggest that ambient light distributions can affect attention, visual interest, alertness and relaxation. The question that emerges is whether these positive psychological effects, driven by spatial and temporal dynamics of illumination, could be used to increase the user acceptance of lighting solutions aimed at supporting circadian effects.
Applicability of dynamic light in nature
Theories from environmental psychology suggest that nature and natural elements can be restorative for humans. The biophilia hypothesis explains this via humans' innate and evolutionary connection with nature. By recreating the spatial and temporal characteristics of natural light patterns with artificial lighting, the positive qualities of daylight and the restorative effects of nature may be brought indoors. As a novelty, the applicability of dynamic light patterns that are prevalent in nature, such as dappled light, is being researched.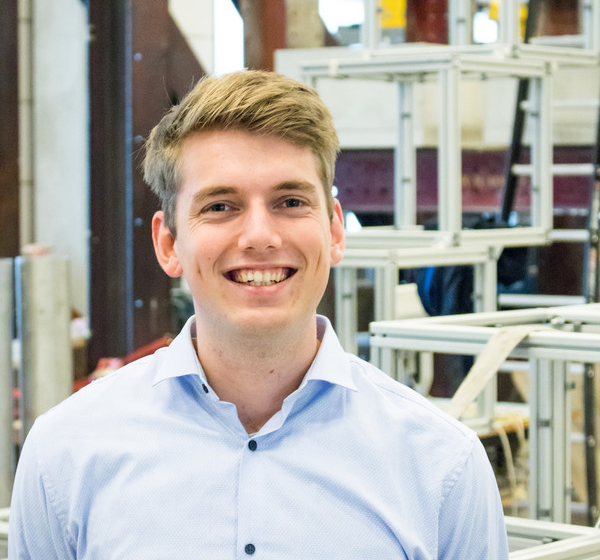 "The tool will provide researchers with a fast and flexible method to conduct experiments on the perception of such patterns in a space independent of location or external conditions."
Sietse de Vries
Simulation tool for photorealistic indoor environments
To identify the impact and perception of certain dynamic patterns of natural light, experiments are necessary. Due to the complexity of controlling natural light during such experiments, immersive virtual environments have been identified as a suitable alternative. The goal of the EngD project is to create a simulation tool that generates photorealistic indoor environments with customizable dynamic patterns of natural light to be viewed using virtual reality headsets. The tool will provide researchers with a fast and flexible method to conduct experiments on the perception of such patterns in a space independent of location or external conditions.
Dappled natural light
Recently, proof of concepts of all parts of the simulation tool have been produced, allowing early testing. The current focus is on optimizing simulation efficiency and closely reproducing the properties of dynamic patterns of dappled natural light. When finished, the simulation tool will facilitate research that is needed to advance the development of innovative lighting scenarios that maximally benefit human functioning, ensuring high visual comfort and satisfaction and support for circadian and restorative effects.