ASQ Fontys was a successful online meeting place for innovators
30 November 2020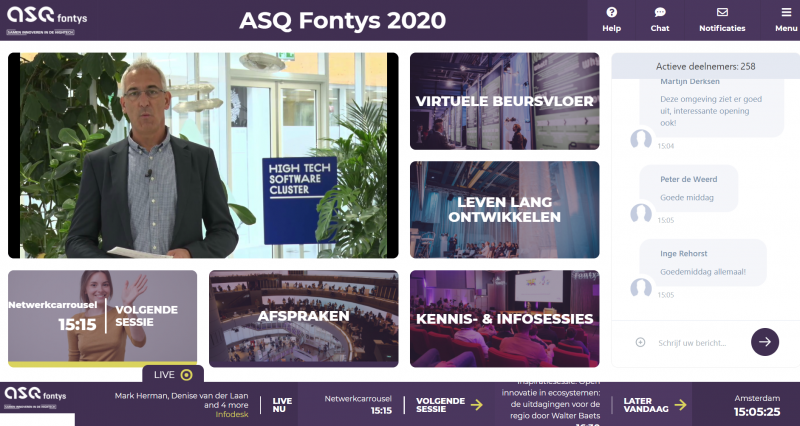 Every year, Fontys University of Applied Sciences brings together the (high-tech) business community with experts from its own ranks in order to encourage mutual cooperation. This takes place under the name 'ASQ Fontys' and is organized by the Fontys Centre of Expertise HTSM (High Tech Systems and Materials). ASQ stands for All Sorts of Questions. The 2020 edition took place on 3 November and was completely virtual. This worked out well for the organization and for the 300+ visitors, who seized the opportunity to be inspired in a wide range of technical fields.
The fourth edition of ASQ Fontys offered a diverse range of options: 13 interactive knowledge sessions on research took place simultaneously in various online spaces in addition to seven information sessions on education for professionals.On the virtual exhibition floor, 38 stands were set up through which researchers and students spoke to visitors about their HTSM research projects. One of the knowledge sessions was dedicated to the Eindhoven Engine formula.
Walter Baets: "We are trapped in a linear and causal way of thinking. If we do what we have always done, we get what we always got. We cannot innovate, we re-search. Design thinking is needed."
Walter Baets concluded the afternoon with a keynote lecture on open innovation in ecosystems. "Our challenge is business model innovation. The energy of imagination will start where time and space are one; that's part of the Eindhoven Engine formula. Your personal transformation journey starts here."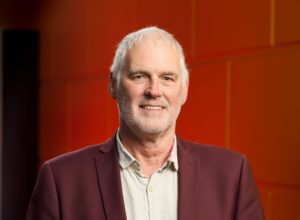 Networking
"A major challenge for this online event was the networking component," says Mark Herman, who organizes ASQ Fontys on behalf of the Centre of Expertise HTSM. "We know that our visitors, including many technical SMEs from the Brainport region, come mainly to discuss innovation issues with each other and with experts and students from Fontys. At ASQ, we offer a platform where encounters are possible and where we do our best to make those encounters as inspiring and easy as possible. To this end, we organized knowledge sessions and a network carousel. But we were a bit uncertain on whether there would be sufficient interaction in this digital setting. The reactions of the participants, plus the fact that more than 100 appointments were made, gave us the confidence that we had succeeded."
Innovation
At ASQ Fontys, high-tech entrepreneurs can turn to each other and to experts from Fontys with all of their questions. These questions can lead to research in which companies, Fontys researchers and students take on a challenge together. This is already happening: 38 research projects were presented on the virtual exhibition floor, showing that cooperation can lead to innovative solutions. This is not only relevant for the company involved but also provides topical and context-rich education for Fontys students.
Corona research
The latest batch of research revolves around a current theme: corona. Researchers are investigating how high-tech can contribute to recovery and innovative strength during and after the corona crisis. Cees van Tilborg is leading one of these projects, 'A robot is not a super spreader'. "In the hospitality industry, we see a lot of problems with the serving of food and drinks. People infect each other. The idea is that a robot can offer a solution because it spreads fewer viruses. The main goal of our research is to create a robot that can help in the hospitality industry and canteens, and later in the healthcare sector, and which is affordable."
Read more about all HTSM research projects at www.fontys.nl/htsmonderzoek (in Dutch).