POWEr FITTing – Let's go for a WorkWalk!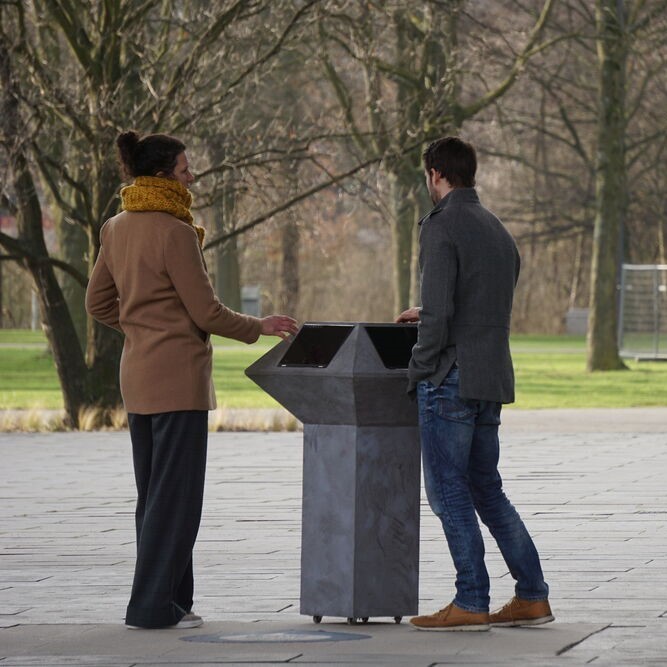 Description of assignment
Let's go for a WorkWalk! How to support and democratize the practice of Walking Meetings
(Study background: Industrial Design / Built Environment / Mechanical or Electrical Engineering / Psychology and Technology)
Walking meetings are a promising way to integrate physical activity in work (rather than taking a break from work). It also stimulates new collaboration dynamics. Yet despite all benefits of walking meetings, this practice is not yet widespread. Many drivers and barriers have been identified in previous work, and it is now time to imagine solutions to support and democratize this healthy and creative working practice!
We designed the WorkWalk, a walking meeting route on TU/e campus which can be booked like any traditional meeting room. We also designed the Hubs, a network of interactive devices facilitating note taking and presenting which were mentioned as the main barriers in conducting walking meetings. As sedentary behavior in office workers is recognized as a major health challenge, there is a huge interest to implement Workwalk designs at other places in the NL (e.g. Tilburg university and High Tech Campus). Current solutions need to be researched further, fine-tuned and enhanced. Other innovative solutions addressing this issue are also welcome.
Missions 2a and 2b/ Interactive Workwalk routes
The current Workwalk routes on the TU/e campus are non-interactive dotted lines which people can follow. Your challenge is to make the WorkWalk routes interactive, and somewhat adaptive to people's needs. Your mission (Industrial Design, Mechanical or Electrical Engineering) will be to explore different modalities and designs for the WorkWalk routes.
The 3 design principles which should be included in a final concept are:
Interactive: the routes should be interactive and should use technology in a meaningful way to guide people
Sensing: the part of the routes should have a sensing component (to be defined depending on what you will see relevant)
Responsive: based on the data of these sensors, the design of the route will somewhat adapt to the context or the users.
Sensing and responsiveness do not necessarily have to be at an extremely complex level, but something should be implemented.
Depending on your study background (Built Environment, Psychology and Technology), you can also think along on which methods and process should be used to develop a WorkWalk in a new place such as High-Tech Campus. How to understand the physical aspects of the place, its target users? How to study the walkability of a place? Does the place need a single routes or a variety of routes corresponding to different usage modes? How to match the design with the business identity that the place and stakeholders intend to convey?
Computer Science and Psychology and Technology students might also focus on the features offered by the Hubs, their connectivity and their UI design.

---
Types of student project possible
Fontys: Internship, Graduation projects
TU/e: Bachelor project, Master internship, Master thesis
Types of study
Industrial Design
Built Environment
Mechanical Engineering
Electrical Engineering
Psychology and Technology
Starting date/ duration of student projects
Flexible depending on the requirements of students' institutions.
Contact
Marieke van Beurden, m.v.beurden@tue.nl