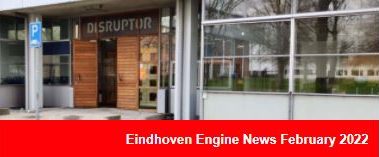 Eindhoven Engine News – February edition 2022
For Eindhoven Engine, 2022 has been kickstarted with the new name for our co-location: Disruptor. Disruptor fits Eindhoven Engine and the other tenants perfectly as we're all working on innovations that will make a difference to industry and society!

In April, we will broaden our portfolio by adding new projects from the OpenCall 2022. Together with the new and ongoing projects, we will have more impact and cross-over innovations. Other interesting news to share with you includes:
The insights of almost-retired Fontys Liaison Manager Kees Adriaanse. He looks back on a variety of achievements at Eindhoven Engine, as well as the wicked challenges he'd like to see solved.
Developments in Eindhoven Engine projects: the NEON EE project addressing societal challenges and the next phase in the Smart Mobility project.
The first pilot of the Business Model Innovation in an Exponential World course for the NEON EE project.
Our societal impact by committing to reusable isolation gowns and durable mouth-nose facemasks in the Netherlands.
Building the community from the viewpoint of PDEng trainee Anand Thamban.