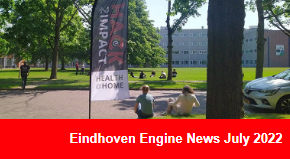 Eindhoven Engine News – July 2022
Eindhoven Engine can look back on a great first half of 2022. We welcomed seven new OpenCall 2022 projects and the Hack2Impact hackathon that took place at the end of May was fantastic. Take a look at the photos and after-movie. You can feel the energy and the ambition to create something meaningful together.
What else is happening at Eindhoven Engine?